Fanning the Flames of Love … Why Shann Loves a Fan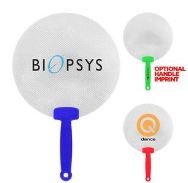 Fanning the Flames of Love … Why Shann Loves a Fan
I do love a fan! I grew up in South Georgia below the gnat line and much fanning has happened in my life.
There was no need for a gym when I grew up: we gals kept our arms toned and our glow at a minimum fanning in church. Remember the traditional paper church fan with the wooden stick, hourglass-shaped cardboard stapled to it with a picture of Jesus on one side and the local funeral home on the other?
South Georgia and North Florida have two seasons: Summer and January. Sure, there's the occasional random weather event sprinkled in just to keep us on our toes. But for the most part, this area is RED HOT (and I don't mean sexy).
Another reason fans are mandatory in South Georgia is that sometimes that forceful mouth-exhaling – you know, blowing out air with lips contorted up, down and sideways – isn't enough to rid our faces of those pesky GNATS that swarm in the summer months. They dive-bomb our mouths, eyes and nose. Yuck! And who hasn't sat down to a picnic in the summer in the Deep South only to see "pepper" on our rice or grits that we did not put there? Neighboring Camilla even has a festival to celebrate the pesky insects. I say Camilla can have them – all gnats go to Camilla!
And then there's the ladies' personal summer: that lovely age where sweltering inner heat jumps on us at the most unexpected times and at warp speed. BAM! There it is. This curse inflicted on mature women is very sneaky and unpredictable. We must always keep a fan close at hand.
And lastly, I love a fan because it rhymes with Shann. I'm not a poet, but this is easy-peasy poetry:
Shann needs a Fan.
Please fan Shann.
And my personal favorite (ok it doesn't rhyme):
Sometimes the Fit Hits the Shann😊-
All of this FAN nostalgia was prompted by my awesome find at the industry trade show in Las Vegas recently. You guessed it – I found a new and improved fan!
The church fan is one of the earliest forms of promotional products, but over the years we've evolved to offer plastic fans, foldable fans, battery-operated fans and, most recently, cell phone fans that are powered by the ubiquitous cell phone. But it gets EVEN BETTER!
Drum roll, please ….
My favorite item or the 2019 PPAI Tradeshow:
The 2-IN-1 LED Light-Up Portable Cell Phone Fan
Almost like magic, one of 10 LED messages will appear behind the blur of the moving blades. Your custom messages can appear in red, yellow, blue or green on a white fan.
HOW COOL IS THIS?!!!! AWESOME!!!!
Sometimes Shann
Finds just the most awesome Fan
---